Archive for October, 2010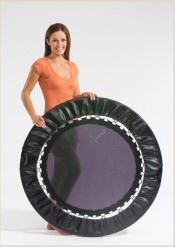 My favorite form of aerobic exercise right now is rebounding, which I discovered after watching a video by Albert E. Carter on the subject of The Healthy Cell Concept. Rebounding is done on a mini trampoline or "rebounder" and as part of the Healthy Cell Concept, it assists you in keeping your immune system healthy. Since it is so important to keep your immune system healthy and I'm always looking for new ways to exercise, I thought I would give it a try.
I purchased a Half Fold ReboundAir and I am really glad I did. When it arrived, all I had to do was take it out of the box and start exercising. I set it in front of the TV and started jumping. It was easy, non impact and after 1/2 hour, I felt like I had a great workout without getting out of breath.
One of the best things about it is its versatility. You can run, jog, jump, kick and bounce on it, all in the comfort of your own home. It is easy on your joints as you are not exercising on a hard surface. You can even add hand weights to help you burn more calories and get an upper body workout at the same time.
If you are contemplating purchasing a treadmill, or have a treadmill but don't care for it, you may want to consider a ReboundAir.
There are many different rebounders available but I would suggest a ReboundAir because it is made of quality materials and has a lifetime all parts warranty. There are not too many pieces of exercise equipment that have that offer.
I can honestly say that of all the aerobics I have done over the years, this is by far working the best for me.