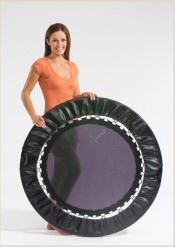 My favorite form of aerobic exercise right now is rebounding, which I discovered after watching a video by Albert E. Carter on the subject of The Healthy Cell Concept. Rebounding is done on a mini trampoline or "rebounder" and as part of the Healthy Cell Concept, it assists you in keeping your immune system healthy. Since it is so important to keep your immune system healthy and I'm always looking for new ways to exercise, I thought I would give it a try.
I purchased a Half Fold ReboundAir and I am really glad I did. When it arrived, all I had to do was take it out of the box and start exercising. I set it in front of the TV and started jumping. It was easy, non impact and after 1/2 hour, I felt like I had a great workout without getting out of breath.
One of the best things about it is its versatility. You can run, jog, jump, kick and bounce on it, all in the comfort of your own home. It is easy on your joints as you are not exercising on a hard surface. You can even add hand weights to help you burn more calories and get an upper body workout at the same time.
If you are contemplating purchasing a treadmill, or have a treadmill but don't care for it, you may want to consider a ReboundAir.
There are many different rebounders available but I would suggest a ReboundAir because it is made of quality materials and has a lifetime all parts warranty. There are not too many pieces of exercise equipment that have that offer.
I can honestly say that of all the aerobics I have done over the years, this is by far working the best for me.
If you have had a rough day and need something to help lower your stress level, Crunch Candlelight Yoga may just be the ticket for you. I just completed the video and I feel so loose and relaxed that I could just go to sleep. It is about a 40 minute yoga routine that is very easy to follow. There are no hard poses in the video and it is more focused on helping you to relax by stretching and breathing. It will also help if your muscles are feeling tight and you need to stretch them out. They give you modifications to the poses so even if you are a beginner, you will be able to benefit from this video.

I have done other video workouts with Tracy York and Michelle Dozois, the instructors in this video, and have always enjoyed them. This did not disappoint. This is a good dance workout with fairly easy to follow steps. The cardio dance portion lasts for about 40 minutes and is a good workout by itself but there is also a 30 minute pilates routine that is like the icing on the cake of this workout. After completing this workout, I felt that I had a good total body workout.

Trying to decipher all of the fitness and diet information out there can be so confusing.  I'm always looking for realistic advice on maintaining my weight, exercise, and what the best foods are to aid in fat loss.
As I was searching for information on losing fat, I kept coming across information on the book, Burn the Fat, Feed the Muscle. It seemed like everywhere I looked, there was someone talking about it. I decided to go to the www.burnthefat.com website to see what the hype is all about. The author of the book, Tom Venuto, is a natural bodybuilder and has written a lot of articles for different fitness and bodybuilding magazines. After reading all the testimonials about the book, I continued to read about his experiences and the knowledge he has gained over the years in regard to bodybuilding without supplements. It seems like he really knows what he's talking about. He doesn't pull any punches when talking about all of the lies and misconceptions on losing weight, exercise, and supplements. I signed up to his newsletter and also a 12 part mini course on "Big Fat Lies".
I just completed reading the 12th part of Big Fat Lies and the whole series was quite eye opening. I've learned some pretty interesting things on all the lies that are spewed on the public and they all make perfect sense. The bottom line is you get out what you put in. The only REAL way to lose weight and be fit is to work hard for it. There are no miracles.
As I do a workout, I like to review it while it is fresh in my mind. I have done this YogaSculpt workout quite a few times and it is still a challenge for me. Karen Voight is a good instructor. She moves through each pose very easily and it is easy to follow. It is just her in the video and there is not really any beginner level instructions although she does tell you on certain poses when you can use a block. It consists of about 25 minutes of standing poses and 20 minutes of matwork, a combination of yoga and pilates, to help strengthen your abs and back. I am not a heavy duty Yoga practitioner but the workout is good and I would recommend it to anyone above a beginner level who wants a good workout.
Get this video from Amazon

I consider myself to be at an intermediate level when exercising and this video was tough for me. It is broken down into five 10-minute sections; one focuses on your butt, one on your thighs, one on your midsection, one is a combination of cardio and lower body toning, and the last one is a combination of cardio and strength to help get rid of belly flab. I did the entire workout, but let me tell you it was a challenge. By the end of the workout, I was really feeling it. It is done using a sculpting loop throughout the whole video which adds a lot of resistance to the workout. The sculpting loop comes with the video so you don't have to purchase it separately. It's really a good workout.  The only downsides I see to the video is there is not enough stretch. I like stretching after a workout and I felt that was lacking and the resistance band is a little distracting. It has a tendency to roll up when working out and I felt like at times I was focusing on keeping it in place.
If you are a beginner and decide you want this video, I would suggest working without the sculpting loop to start. You can always add it when your body is ready for it.



Get it at Amazon
I recently purchased a stability ball and a couple of exercise videos to go along with it. The first video I tried is 10 Minute Solutions Pilates on the Ball. Wow, what a good workout for me. I have been doing pilates for a couple of years now and the stability ball adds a good level of intensity to the workout. If you have never worked out with a stability ball, you should try it. It is pretty challenging to keep the ball steady when you are working out on it.
The video contains 5 ten-minute sections that focus on different parts of your body. There is a section just for abs, one for the lower body, one for the upper body, one that combines exercises that work all of your body, and the final one is a stretch. One thing that is great about all of the 10 Minute Solution videos is you can mix and match the sections to focus on the areas you want, or if you only have a few minutes to get a workout in, you can choose just one or two sections.
One suggestion I would make to anyone purchasing a stability or fitness ball is make sure you buy the right size for your body. I didn't do any research before buying and I didn't realize there are different sized balls for different sized people. I am 5'2″ and the medium sized ball fits me alright. I would say if you are any taller, you may want to consider a larger ball. 


Get this at Amazon
Having heard so much about trans fats lately and how New York City has banned the use of them in restaurants, I wanted to find out more about them and why they are so bad. I thought you may be interested too.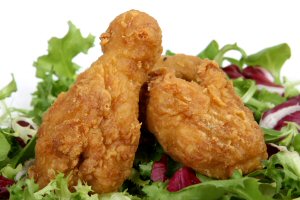 Trans fats are made by adding hydrogen to liquid vegetable oils to help make them solid. They can also be referred to as partially hydrogenated oil. Restaurants like to use them for their fried foods as they makes the food taste good, have a long shelf life, and are pretty inexpensive to make. Unfortunately, they are not good for your health, as they raise your bad cholesterol and lower your good cholesterol, increasing your risk of a heart attack or stroke.
There are four different types of fat: trans, saturated, polyunsaturated and monounsaturated. The first two, trans and saturated, are not good for you. Trans fat can be found in a lot of fried foods and baked goods, and most stick margarine has trans fat. Saturated fats can be found in red meat and dairy products. Trans and saturated fats can clog arteries and may increase your risk for heart disease.  The other two, polyunsaturated and monounsaturated, are much better choices. Polyunsaturated helps to lower your bad cholesterol and is found in fish like salmon, herring, and trout, as well as many nuts and seeds. Monounsaturated can be found in oils like olive, canola, and soybean. These are oils that are recommended when you fry or saute food. Even though these fats are better for you than trans and saturated fats, they still should be eaten in moderation. There is a lot of information at the American Heart Association if you want to learn more.
We all need some fat in our diet, but when you have a choice, choose foods made with poly or mono unsaturated fat. Your body will thank you for it!
If you like cardio dance than you will probably like this video. The moves are funky and fun. The instructor Maria Forleo is easy to follow as she breaks down each move at half time to begin and then puts the moves together to make a full dance routine. You may not get all the steps the first time around, but should be able to catch on after doing it a couple of times. Once you get all the moves, you can get into the rhythm of the dance and won't even feel like you are exercising. I have fun with it and work up a pretty good sweat too!
Once my workout routines became a daily habit, I considered joining a gym. As I weighed the pros – great machines, exercise classes, qualified fitness instructors, and the cons – the effort of finding a babysitter in order to leave the house, worrying about criticism, buying stylish workout clothing, and the financial commitment, I decided it would be more beneficial to me to work out at home using exercise videos.
Over many years I have accumulated an extensive collection of videos covering a wide variety of exercises. This has helped keep me going, because I can choose whatever I feel like doing on any given day and I don't get bored.
In future posts I will share with you my thoughts on many of the videos I have experienced. I will let you know how they have helped me and maybe it will help you too!